2012
Breaking News! Joe & Leigh's recognized by Golf World (a Golf Digest publication),
for the 19th time, as one of Golf Worlds 100 Best Golf Shops for 2012!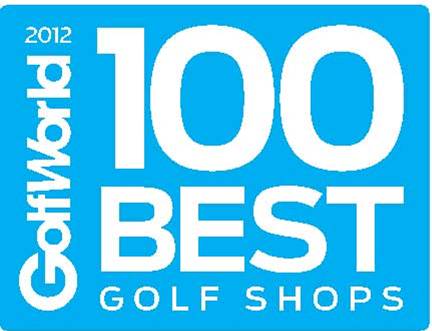 Gift Certificates available here. Delivered immediately via Email (or snail mail)!

2011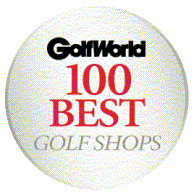 Excerpted from Golf Digest online...
Golf World salutes the men and women who keep us well-equipped, dressed for all conditions and informed about the next breakthrough product. In particular, we pay tribute to those retailers (both on- and off-course) who, as judged by the Association of Golf Merchandisers and GW senior editor E. Michael Johnson, excelled and earned a place among Golf World's 100 Best Golf Shops for 2011. Their shops ranged in size from a few hundred to more than 20,000 square feet, but each came up big in offering fresh merchandise, sound advice, inviting displays and service that kept us coming back. Our 100 Best consists of 25 shops in each of four categories: private, resort, public and off-course. A dozen facilities made the list, begun in 1986, for the first time. Winners come from 29 states, Scotland and the Bahamas. It's an impressive group.

Golf may be a game of tradition, but golf retailing today is anything but. The continued presence of big-box stores and online entities selling golf products has required professionals, merchandisers and specialty-store owners to become increasingly innovative in what is now a big business. Our winning shops this year totaled more than $200 million in sales. However, even in the face of such numbers, golf retail remains about people. Often the engine driving the stores and shops on this list is an individual (or group of individuals) with vision, creativity and discipline, coupled with a work ethic to envy. You may call them winners or smart businessmen. We call them our 100 Best.
2010
Once again in 2010, GOLFWORLD, designates Joe & Leigh's Discount Golf Pro Shop as one of America's Top 100 Golf Shops. This is Joe & Leigh's 17th, "Top 100" distinction.

At the annual PGA Merchandise Show in Orlando, FL, Golf Digest hosts a TOP 100 Golf Shops in America, awards celebration. Here's a short video of it!


Golf World has also recognized Joe & Leigh's in
2011, 2010, 2009, 2008, 2007, 2006, 2005,
2003, 2002, 2001, 2000, 1999, 1998, 1997, 1996,
1989, 1989, 1987 and in
2006 as One of America's "Best All Time Shops"