Tips from our PGA and LPGA Pro's!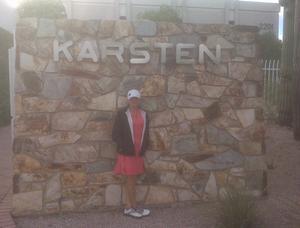 Diane at the PING factory and fitting center in Phoenix, AZ

Should I warm up?
by Diane Bader, LPGA
Have you ever seen an athlete kick off their high heels or dress shoes, run to their activity, and just start playing? Well, Your swing is an explosive motion with lots of twisting and you ARE an athlete so let's get you off to a good start by warming up and stretching a bit before your next round. Warming up your golf muscles is essential to get your round off to a good start. If you skip this step as many of us do, you have already made your first bogey before you even tee it up. Be sure you warm up with a series of dynamic stretches and movements that mimic the movements in your golf swing. Your warm up needs to accomplish two things:
1) Increasing you core body temperature.
2) Warming and loosening your golf specific muscles.

There are lots of fun warm ups out there for you to choose from. [I'll share a few more soon!] Just keep these two guidelines in mind and make your first few holes as great as your last few holes. :)

Diane
Don't Miss Out!
Stay in the Know With Joe & Leigh's By Joining Our Mailing List!